Skip to content
ABOUT THIS AIRCRAFT
The Citation XLS+, also known as the Citation Excel Plus, is the world's best-selling business jet. The design was derived from the original Citation Excel jet and features upgraded engines and avionics that deliver an increased performance. Launched in 2008, the jet continues to be very successful on the charter market due to its versatility.
The Citation XLS+ is a mid-size jet: 16 meters long and 5.23 meters high, with a wingspan of 17.17 meters. The jet has features that would normally be found in larger, commercial aircraft, including a chic cabin and transcontinental range. The Citation XLS+ has a maximum cruise speed of 815 kilometers per hour and a range of 3,305 kilometers. Another advantage of this aircraft is the comparatively low operating cost for its type.
With two Pratt & Whitney PW545C engines for increased thrust, the Cessna Citation outperforms other private jets in its class. The plane also boasts high capacity carbon brakes and has an aluminum alloy frame, straight-wing design and narrower nose to reduce drag. Short-field capability means the aircraft can take off from shorter runways and smaller airports.
INTERIOR DESIGN
The Cessna Citation XLS+ cabin can comfortably seat eight or nine passengers. In addition to the fully-reclining padded leather seats, it is often configured to include a side-facing couch and extended closet. Passengers can enjoy fully articulating and tracking seats with dual DVD and individual seat monitors. There is a Rosenview Moving Map function to track flight progress and seats are up to four inches wider than normal for maximum comfort.
With the largest cabin in its class – measuring 1.73 metres high, 1.68 metres wide and 5.64 metres long – the Cessna Citation XLS+ offers ample closet space within the cabin for hanging suits and jackets. In the galley there is usually a microwave, wine caddy, ice drawer and hot liquid tank for food and drink preparation. There is a lavatory towards the rear and large windows in the cabin to maximize natural light. The Citation XLS+ interior comes in six colour scheme variations, all featuring premium finishes and luxurious materials such as leather, silk and Honduran mahogany wood veneer. The design options are:
French Roast – stylish, warm greys
Jet Black – quality black leather with contrast stitching details
Hyde Park – silver mist colors
Silver Mirage – platinum silks, leather and mahogany wood veneer
Bisque – neutral tones with subtle fabrics
Toffee – earthy colors and textures with two different types of leather.
Indirect LED lighting gives a natural ambience and the cabin remains quiet and draft-free with triple-pane windows and a triple-sealed entry door. Foldaway tables, sliding headrests and built-in drinks holders are ideal for creating a workspace setup. The aircraft can accommodate 362.9 kilograms of baggage and has a total luggage space of 2.24 meters across an external compartment and internal closet.
TECHNOLOGICAL FEATURES
The Citation XLS+ has a number of advanced technological features. These include the Rockwell Collins Pro Line 21™ integrated avionics system with four EFIS LCD displays and the FMS-3000 Flight Management System. This system has high-tech features such as weather navigation systems, airport diagrams and diagnostic systems.
Pilots have access to satellite imagery using NEXRAD overlays and can view Temporary Flight Restrictions in real time, with images and data available at all altitudes. Other features include:
Detailed airport diagrams
Flight status data
XM WX Satellite Weather Data Service
Crew alerting system
Emergency Descent Mode
Global Positioning System
Terrain Awareness Warning System
Traffic Collision Avoidance System.
In many Citation XLS+s there is also an entertainment system, Wi-Fi and telecommunications system onboard.
PAST AND PRESENT
There have been 900 Cessna Citation XL aircraft built since manufacturing began in 1996, with certification granted in 1998. The XLS 2004 update featured a glass cockpit and more powerful engines. This version was upgraded to the Citation XLS+, which has been manufactured by Cessna since 2008, when it received Federal Aviation Administration (FAA) certification. The popular business jet is still in production today.
MANUFACTURER
The Cessna Aircraft Company is a general aviation manufacturer based in Kansas that has been in operation since 1927. The company was established by farmer and mechanic, Clyde V. Cessna, who assembled his first plane, a French Bleriot, from a kit using his own water-cooled engines. Cessna became famous for manufacturing small-size piston-powered aircraft primarily designed for private and business use.
In 1940, Cessna signed a contract to produce 33 Cessna T-50s for the US Army and later, 180 of the jets for the Canadian Air Force. The company later expanded to manufacture corporate jets and has since become the leading private jet manufacturer in the industry. Its Citation XLS range is one of the most popular private jet options on the market. In 1985, Cessna was bought by General Dynamics, before being purchased by Texton Inc in 1995.
Cessna's parent company, Texton, is a global aerospace, security, defense and technology conglomerate which also manufacturers Beechcraft and Hawker jets. The company specializes in creating bespoke mission-specific jets for the government, military and commercial customers using innovative aircraft design. Today, Cessna producers four turboprops and three pistons, as well as the following business and private jet models:
Cessna Hemisphere
Cessna Longitude
Cessna Latitude
Cessna Sovereign+
Cessna XLS+
Cessna CJ4
Cessna CJ3+
Cessna M2.
INTERESTING FACTS
The aircraft requires a runway of only 1,085 meters for take-off at its maximum weight
The Citation XLS+ has two Pratt & Whitney PW545C engines, which enable the aircraft to fly at a maximum speed of 815 kilometers per hour
Top-of-the-range XM Broadcast Graphical Weather technology provides the pilot with detailed weather charts and maps and interactive graphical weather updates
The Cessna Citation XLS + has an operating cost per mile of $3.77 and the cost per hour ranges from $1,530.
COST
The price to buy a new Cessna Citation XLS aircraft was listed at $13 million in 2019. The jets are still in production but second-hand models are available with an average sale price of $7.1 million, according to Business Jet Traveler.
WHERE TO BUY
As of 2019, aircraft resale sites Controller.com, GlobalAir and AvBuyer had the Cessna Citation XLS+ listed for sale. On GlobalAir, prices started at $7,100,000 for a 2012 model and an aircraft built in 2018 was listed at $11,295,000. The average price on GlobalAir for the aircraft was $9,197,500. AvBuyer's cheapest Cessna Citation XLS+ is listed for $7,100,000.
CHARTER RATES
The Cessna Citation XLS+ is a popular private jet charter for both business and leisure purposes. Rates for renting a Cessna private jet will vary according to factors such as journey length and which airports you fly in and out of. Hourly rates can range from $1,050 to $3,834, while empty leg discounted flights are occasionally available.
If you would like to charter the Cessna Citation XLS+, please visit our private jet charter page.
AIRCRAFT LAYOUT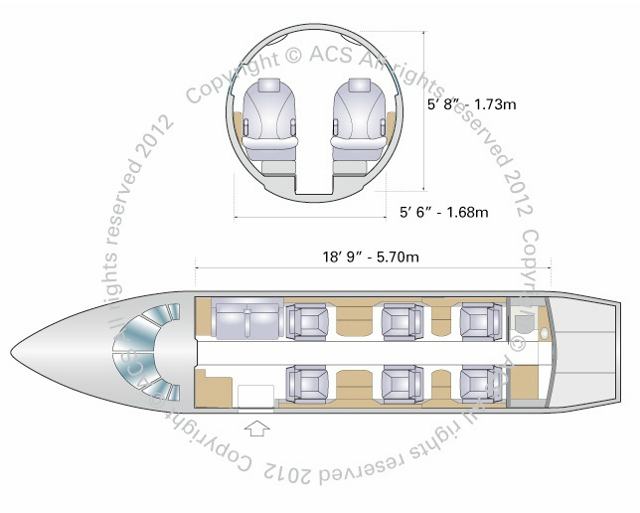 AIRCRAFT IMAGES
SELECT UP TO MORE -
YOUR SELECTED AIRCRAFT ARE READY TO COMPARE
COMPARE NOW
DEDICATED ACCOUNT MANAGERS
NO OBLIGATION
25 YEARS EXPERIENCE
AVAILABLE 24/7